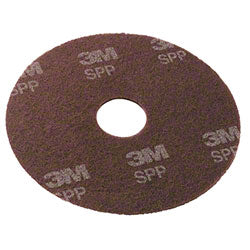 MMM29592 3M 20 Inch Surface Preparation Pad 5-CS
3M SPP20 ScotchBrite Surface Preparation MMM29592 floor pads 20 inch maroon for removing floor finish without chemicals before recoating case of 10 pads replaces MMM23276.

ScotchBrite Surface Prep Pads are engineered as environmentally preferable products.

ScotchBrite Surface Prep Pads:
Reduces the need for chemical strippers
Use pad with neutral cleaner or water
Helps reduce labor hours and material costs related to stripping floors
Effectively removes floor finish, leaving a clean surface ready for recoating
No Chemical Strippers Needed

ScotchBrite Surface Prep Pads require only neutral cleaner or water to effectively remove floor finish, preparing the floor for finish applications. The product can be used on vinyl tile, marble, terrazzo, concrete and other floor types.

Cleaning Process:
Use ScotchBrite Surface Prep Pads and neutral cleaner or water with auto scrubbers, swing machines, or rectangular floor machines.
If using neutral cleaner, rinse floor with water prior to applying floor finish.
A flexible backer floor pad can be used to hold pad.
Once floor is dry, dust mop before applying floor finish.
Helps Improve Safety and Productivity:
No slippery residue from strippers
No stripper cleanup on baseboards or nearby floors
No chemical contamination on skin, clothes and shoes
---
We Also Recommend
---